Twin Oaks Urgent Care in Friendswood
When you're too sick to wait days or weeks for a scheduled appointment with your doctor but do not require a trip to the emergency room, where to you go for medical care? Twin Oaks Urgent Care is here to provide the medical attention you need when you or a family member are suffering from a non-life-threatening injury or illness that requires immediate care. Our clinic is located at 111 S. Friendswood Dr. in Friendswood, TX 77546. Please contact us at (832) 569-4390 if you think you might need medical attention. Walk-ins are always welcome at Twin Oaks Urgent Care.
When you come to Twin Oaks Urgent Care, our top priority is to provide the compassionate, experienced medical care you need as quickly as possible. We understand that the last thing you want is to sit in a waiting room. Providing a comprehensive list of services, including on-site diagnostics, allows us to treat our patients as efficiently as possible. Please bring your current identification and insurance information to help us complete the necessary paperwork as quickly as possible.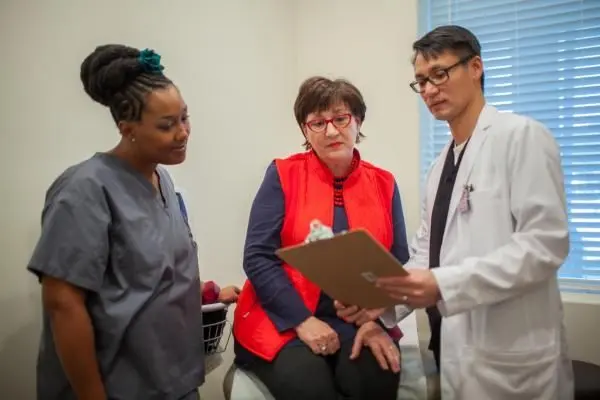 Our Services
At Twin Oaks Urgent Care we treat patients of all ages, from infants to the elderly. Our caring staff and knowledgeable doctor offer the following services and treatment for:
Animal bites

Back pain

Cold and flu symptoms including sinus infection, sore throat, stomach pain, nausea, vomiting, ear ache, fever, coughing, congestion

Diagnosis and treatment of sexually transmitted diseases (STDs)

Injuries such as fractures or dislocations, cuts or punctures, minor burns and muscle strains

Labs and Diagnostic Testing such as X-rays: complete blood count (CBC), comprehensive metabolic panel, Chem 8, cholesterol, glucose, Tuberculosis (PPD), EKG, chest x-rays, bone x-rays, pregnancy testing

Physical Exams: Pre-employment physical, Return-to-work exam, physicals for attending school or camp or participating in sports

Screenings: Blood pressure screening, diabetes screening, cholesterol screenings, hearing test, Snellen vision check and color perception testing, thyroid disorders, testing for HIV/AIDS and Hepatitis

Seasonal or food allergies including rash, hives, itchy watery eyes and sinus pain

Treating illnesses and symptoms such as asthma, bladder infection (UTI), constipation, diabetes, diarrhea, ear pain, fatigue, unexplained fevers, headache or migraine, heartburn, high blood pressure, high cholesterol, mononucleosis (Mono), nausea or vomiting, pink eye, rash or hives

Vaccinations for Influenza, Meningitis, Tetanus/Diptheria/Pertussis (Tdap)
Illness and minor medical emergencies don't always occur when it's convenient, but that doesn't mean you have to delay treatment until your primary doctor is available. At Twin Oaks Urgent Care, we provide care when it is convenient--and necessary--for you. Make an appointment or feel free to walk into our Friendswood, TX office. For more information about the services we offer, please do not hesitate to call (832) 569-4390. Our friendly staff is here to explain more about our range of services, help you make an appointment, or walk you through our payment options.